What is an Active member?​
An "active" member, is a user that has made 10 (or more) posts in
forums that count
within the past 30 days. Posts that are made in forums that don't count or that were made outside of the previous 30 days are not counted, it is a "Rolling Counter".
Being an "active" member comes with additional benefits/upgrades over a standard account:
5 Open ads at a given time in our classifieds.

Ads expire after a maximum of 30 days.
Accept Offers on your ads.
Bump your ads every 2 days. (Moves the item to the top of the listings.)
Lock/Unlock questions on your own ads.

Upload attachments to conversations.
The ability to post your Paid Tutorials in our Resource Manager.
The ability to enter our contests.
The ability to create your own media gallery albums.
Maximum gallery file size: 5MB
Maximum gallery image dimensions: 1920 x 1920
How Close Am I?​
You can tell how close you are to being an "active" member by looking at your user profile.
To the right of your avatar, you will see a field that says "Messages Last 30 Days". The number next to that must be 10 or higher.

I've Made 10 Posts, Now What?​
At 20 minutes past every hour, a script runs that promotes users that have met the criteria for being an "active" member". If you have met the criteria and the promotion has run, you will see a user banner that states "Active Member". Your user banners can be found in 3 places:
To the left of any post in the user postbit:

On a users member card (click on any user name to see the member card)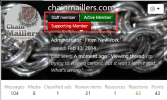 On a users profile (to see your profile, click on your username in the toolbar)

and then click on the link your username

That will bring you to your profile page

We hope you found this tutorial useful.
Regards,
Chainmaillers.com
Last edited: