Author's Note
I wanted to contribute my tutorials to Chainmaillers.com to help ensure that the entire chainmaille community has access to them. The tutorials are presented here with the same images and text from my old site CGMaille. I hope they continue to help inspire you to learn and create many amazing pieces!
-Phong
Weave Background
Camelot is a weave by
PrairieGal
of
Beaded-Baubles
. It is a variant of
Celtic Visions
that makes 'nodules' by connecting the edge rings of adjacent cells.
Aspect Ratio & Ring Sizes
Camelot takes 2 ring sizes. In this tutorial they are 20awg 3/16" steel (AR - 6.6) and 20awg 3/32" bronze (AR - 3.5). Any rings with the same AR's can be used for Camelot.
Metric sizes - approximately 0.8mm wire with 5mm and 3mm inner diameters.
Tutorial Color Scheme
Large rings are steel and small rings are bronze.
Step 1:
Make a 2-1 chain with the large and small rings as long as you want the final chain to be.

Step 2:
Lay large rings over top of the small rings. Don't connect these large rings to anything yet.

Step 3:
Connect large rings to the small rings, trapping the large rings from Step 2.
Note: In real life, you'll end up adding one loose ring, trapping it, adding another loose ring, trapping it, and so on. That gets repetitive when making these pictures, so I didn't bother showing each individual ring.

Step 4:
Add small rings through all 3 layers of large rings. This is the Celtic Visions chain. The 4 rings on the very left and very right are technically going through 2 layers of rings, but they're needed to make the final chain balanced.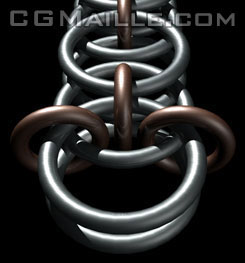 Step 5:
Connect a small ring to two of the rings you added in the previous step.

Step 6:
Connect 2 small rings to 2 rings from the previous step.