Author's Note
I wanted to contribute my tutorials to Chainmaillers.com to help ensure that the entire chainmaille community has access to them. The tutorials are presented here with the same images and text from my old site CGMaille. I hope they continue to help inspire you to learn and create many amazing pieces!
-Phong
Weave Background
The I4-1 45° seam was developed by Dr. T, and used in his I4-1 shirt. It uses the same approach as 45° seams in E4-1. You'll obviously need to know how to make I4-1 to be able to make the seam. Knowing how to make a E4-1 45° seam wouldn't hurt either. This'll look complicated, but it's actually pretty straightforward.
Aspect Ratio & Ring Sizes
I4-1 sheet can be made with AR's down to 5. However, things get tight at the seam, so larger AR's might be easier to use.
Tutorial Color Scheme
The beginning layer of rings is steel; the second layer is brass.
Step 1:
Make a patch of E4-1 with a 45° seam.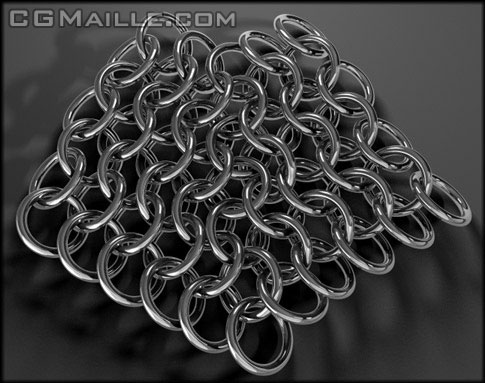 Step 2:
Add the interwoven rings. These don't do anything special; they are just like the interwoven rings in regular I4-1. At the seam you may have to improvise a little to get the new rings in, but as long as they're generally in the right place, you shouldn't have a problem.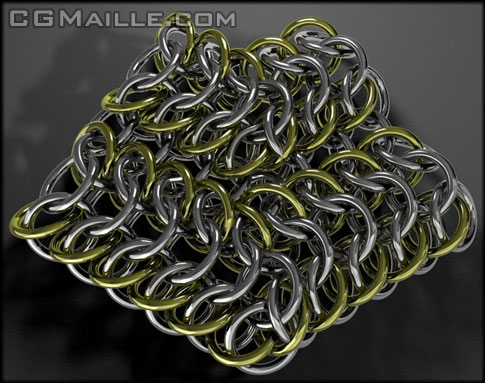 Step 3:
Look for the point where the rings you added in the previous step pass by the seam. Connect an open ring to 1 ring from the upper row and 3 rings from the lower row. This is just like a regular E4-1 seam connection (or would be if all those other rings weren't in the way). Do this for every row of interwoven rings (you can only see the top one, but the bottom rings are added too).
NOTE: I put this ring in the wrong place. It should actually be one space to the right, and go through the 4 brass rings marked with the arrows. Whoops.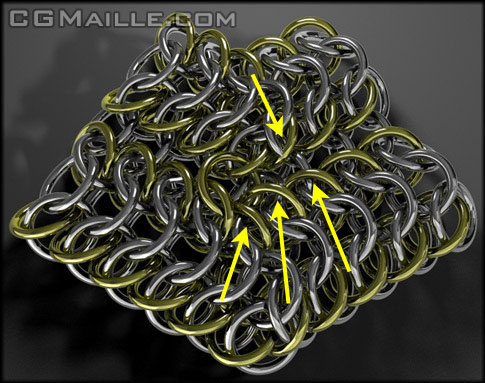 Step 4:
Fill in the rest of the rings in the usual fashion. That is, attach 2 rings on one side and 2 rings on the other side.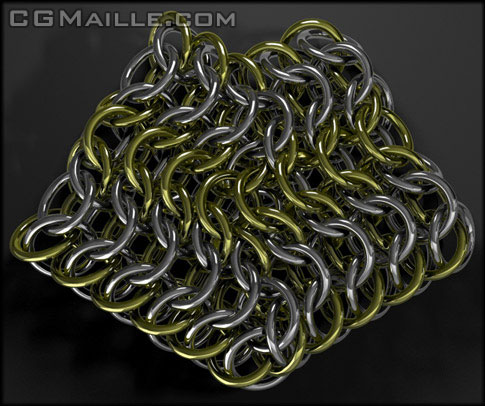 All this may look really confusing, but it's actually pretty simple. If you get stuck, just take a hard look at the patch, and remember that you're just making two E4-1 seams. If you can do that, you can do this.
And if it still doesn't work, don't worry about it. I had a heck of a time getting the rings in place for this tutorial, and I still didn't get it all right. If you have to fake it, fake it with style.